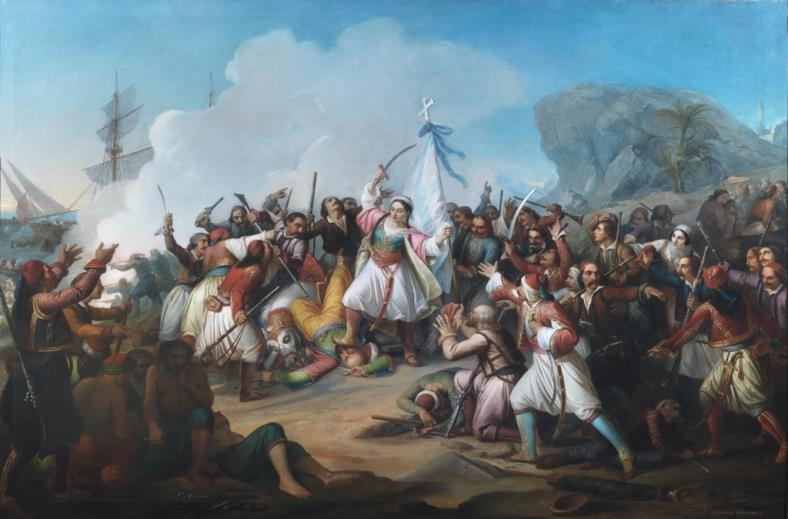 International Conference, School of Philosophy, National And Kapodistrian University Of Athens, December 8-11, 2021
Revolutionary Greece embodied humanist values for many foreigners throughout the 19th century, a time in which the ideals of independence, freedom, self-determination and solidarity were gaining ground in Europe. From the destruction of Souli in Epirus and the 1821 Revolution, to the Cretan Revolt and the 1897 Greco-Turkish war, the Greek struggle inspired many foreign writers, artists, musicians and playwrights, and influenced popular and material culture, as well as fashion. The European and international press recorded and analysed the dramatic events, profiled the protagonists and shaped the perception of the Greek national cause, even as political opinion may have been sceptical or at times hostile.
Greece became the place where imagination and politics met, a dreamlike and often contradictory land of revolution that defined the pen of others and their views of the central issues of the nineteenth century, such as freedom and bondage, revolution and colonialism, Empire and the Orient. The consolidation of the classical ideal, together with the movements of Romanticism and Philhellenism, shaped the image of revolutionary Greece as guarantor of its own and Europe's enlightened past, which in turn clashed with its present reality.
This conference, organized by the School of Philosophy of the National and Kapodistrian University of Athens and sponsored by the Greek Parliament, aims to expand both our knowledge of the reception of revolutionary Greece in the nineteenth century and the ways in which it contributed to the formation of a national "character" and political and cultural stereotypes that may still be at play two centuries later.
LOCATION
The Conference will take place as a hybrid event, combining physical and virtual presence
9 -12-2021 & 11-12-2021 Main Building of the National and Kapodistrian University of Athens, Panepistimiou 30, Athens – Greece (Metro station: 'Panepistimio' – Red line)
The conference will be hybrid and a limited number of seats will be provided to those who wish to attend in person on December 9 and 10 at Argyriades Amphitheater and Drakopoulos Amphitheater, 30 Panepistimiou. Should you wish to attend in person please contact Christina Chandolia (chrchando@uoa.gr) before Friday December 5th in order to reserve a seat.
The conference premises are only accessible by attendees who display a full vaccination certificate or present proof of recovery from Covid-19, valid as of six months. The use of mask is obligatory.
For the live streaming of both the conference session and the cultural events, please consult the program that provides the links to all scheduled events.