ANNOUNCEMENTS
THE ODYSSEY FRIEZE IN THE BUILDING OF THE SCHOOL OF PHILOSOPHY OF THE NKUA
Wednesday 08 Σεπτεμβρίου 2021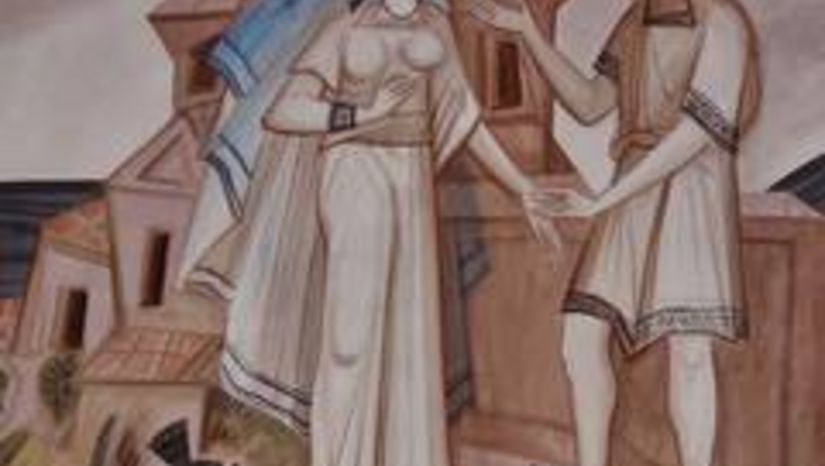 The piece of art offered by the painter George Kordis to the School of Philosophy of the National and Kapodistrian University of Athens was received with great joy by the Dean of the School.
Specifically, it is an extensive (180 sq.m.) frieze, depicting selected scenes from the rhapsodies a and b of the Odyssey, which adorns an extended area in the building of the School of Philosophy. It is a generous donation made to the School of Philosophy by George Kordis, a former professor in the Department of Theology and an internationally acclaimed painter. This work of art presents scenes from the Homeric epic, with goddess Athena transformed into a human, offering advice to Telemachus, who then behaves prudently towards the feasting suitors, while the following day, Athena, transformed into Mentor, assists in the preparation of the ship with which Telemachus departs later that night. Indeed, the whole concept is so close to the character of the School of Philosophy.
In his composition, which was completed with a mixed technique on a properly prepared surface, Kordis combines in this case his recognizable visual style, i.e., aspects of Byzantine and post-Byzantine characteristics that have been fruitfully assimilated (body shaping, unusual perspective, the fear of empty spaces and economy of colors). At the same time, he organizes his themes successfully, framing them with narrative, balanced landscapes. The accuracy of his design is remarkable as it shows deep knowledge of painting in the narrated manuscripts. Of course, it should be noted that Kordis has already had experience in the limited scale of illustration of literary and theological texts. The challenge though the painter had to face in mastering the size of the space was by no means a small one, although he had previous experience with frescoes in temples in Greece and abroad. Further, it seems that Kordis has also aptly dealt with the height at which the depicted scenes appear. Thus, having managed to overcome the trap of his attempt to become a repetitive and dry description of episodes, due to the successive scenes he has chosen to present, he successfully reaches the desirable combination of speech and image in his own way, according to his personal style.
Through this effort, the School of Philosophy of the NKUA confirms that the artistic expression is incorporated in its agenda, as proof of the importance of the artistic creation for the intellectual maturity of both individuals and society in general. At the same time, it is looking forward for these interventions to get accepted as they deserve, despite the odd conditions we are currently experiencing.