ΑΝΑΚΟΙΝΩΣΕΙΣ
ΔΙΑΔΙΚΤΥΑΚΗ ΟΜΙΛΙΑ ΤΗΣ ΚΑΘΗΓΗΤΡΙΑΣ SUZAN O' NEIL ΣΤΟ ΠΛΑΙΣΙΟ ΤΟΥ ΠΜΣ «ΜΟΥΣΙΚΗ ΕΚΠΑΙΔΕΥΣΗ ΣΕ ΤΥΠΙΚΑ ΚΑΙ ΑΤΥΠΑ ΠΕΡΙΒΑΛΛΟΝΤΑ»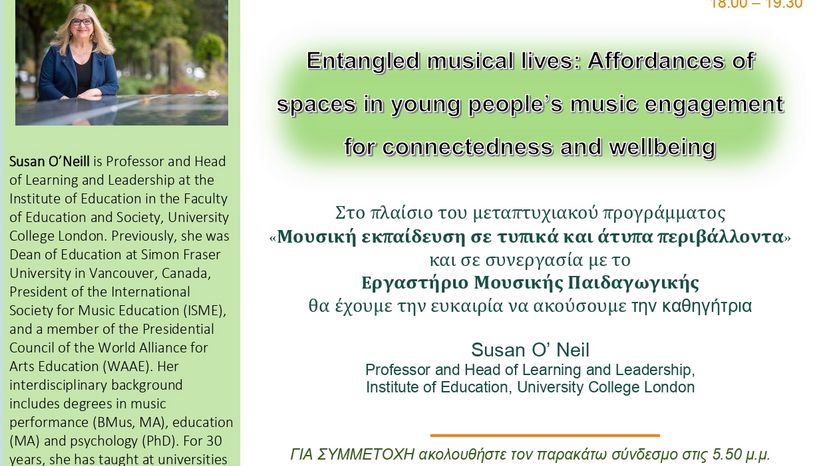 webinar
Δευτέρα, 16 Μαΐου 2022
18.00 – 19.30
Στο πλαίσιο του μεταπτυχιακού προγράμματος «Μουσική εκπαίδευση σε τυπικά και άτυπα περιβάλλοντα» και σε συνεργασία με το Εργαστήριο Μουσικής Παιδαγωγικής θα έχουμε την ευκαιρία να ακούσουμε την καθηγήτρια Susan O' Neil,
Professor and Head of Learning and Leadership,Institute of Education, University College London.
ΓΙΑ ΣΥΜΜΕΤΟΧΗ ακολουθήστε τον παρακάτω σύνδεσμο στις 5.50 μ.μ.
uoa.webex.com/uoa/j.php

Η παρουσίαση θα πραγματοποιηθεί στην αγγλική γλώσσα.

Τιτλος και Περίληψη
Entangled musical lives: Affordances of spaces in young people's music engagement for connectedness and wellbeing. The affordances of spaces in young people's music engagement through which they derive a sense of connectedness and wellbeing are explored in this paper. Specifically, how the material, relational, and multimodal nature of young people's music engagement (referred to here as entangled musical lives) promotes connectedness and wellbeing within physical, virtual, and
hybrid life spaces. Drawing on theoretical perspectives from new materialism and multiliteracies, which allow for the interdisciplinary study of two dimensions of music making in their entanglement—meaning and materiality—this paper offers insights into how music, connectedness, and wellbeing might be conceptualized as an enactment of possibilities for reconfiguring this complex entanglement. Applying these insights to our understanding of how young people navigate and negotiate musical spaces can help us to understand and reassert music and materiality into the embodied practices of young people's music engagement.
Susan O'Neill is Professor and Head of Learning and Leadership at the Institute of Education in the Faculty of Education and Society, University College London. Previously, she was Dean of Education at Simon Fraser University in Vancouver, Canada, President of the International Society for Music Education (ISME), and a member of the Presidential Council of the World Alliance for Arts Education (WAAE). Her interdisciplinary background includes degrees in music performance (BMus, MA), education (MA) and psychology (PhD). For 30 years, she has taught at universities in Canada, Hong Kong, Portugal, UK and USA, and held visiting fellowships at the University of Michigan (2001-03), University of Melbourne (2012), and Trinity College Dublin (2015). Her current research includes studies of young people's music engagement and music learning ecologies, intercultural communication and creative practice, and intergenerational multimodal curricula. An intergenerational arts program she developed received a provincial award for Excellence in Public Education.